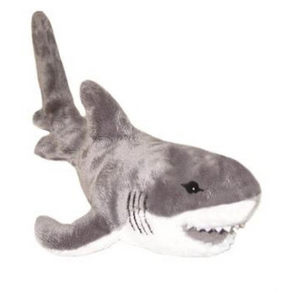 Great White Shark Soft Toy 35cm - Pacific
Pacific is a exquisitely soft and realistic great white shark plush toy.
Pacific is a handmade and airbrushed plush toy measuring 34cm/13.5″ in length, 10cm/4″ in height to the tip of the tail and 16cm/6.25″ in width including fins or 9cm/3.5″ without the fins.
The great white shark is also known as the great white, white shark or white pointer can be found in the coastal surface waters of all the major oceans.  Females take 33 years to be ready to produce offspring.
Soft and cuddly making it the perfect child friendly toy
Excellent souvenir gift for the marine lovers of this magnificent sea creature
Great as an educational toy
Also comes as a 54cm cuddly version to make a collection
Made using highest quality acrylic fur
Machine washable
Suitable for ages 3+