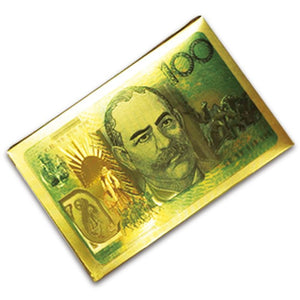 Australian Notes Gold Playing Cards
According to Chinese superstitions, the colour gold implies the idea of wealth and prosperity. But we think it's just pretty awesome to bring out these authentic 24 carat gold playing cards when you have your mates over for poker night. With the touch and feel of regular playing cards, this is one sure way of impressing your poker mates.

The perfect gift for any poker enthusiasts out there, or just for the guy (or gal) that already has it all. 

24 Carat Gold Plated Playing Cards
Standard sized deck including 2 Jokers
Card back features a Australian $100 bill
52 cards & 2 Jokers