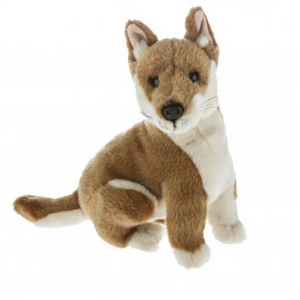 Dingo Soft Toy 25cm, sitting - Byron
Byron is a medium sized exquisitely soft and realistic soft plush toy dingo in a sitting position.
Byron is a handmade plush toy and measures 22cm/8.5″ in height to the top of his ears, 14cm/5.5″ in width and 27cm/10.5″ in length including the tail.
Dingos are a type of wild dog that is native to Australia.  Dingos do not bark, they howl like a wolf.  The average lifespan of dingo is 5 to 6 years in the wild and up to 15 years in captivity.
This native Australian creature makes an excellent souvenir gift for the international traveller
Soft and cute making it the perfect child friendly toy
Comes in many shapes and colours to make a collection
Made using highest quality acrylic fur
Machine washable using chemical/soap free cleaning agent
Suitable for ages 3+