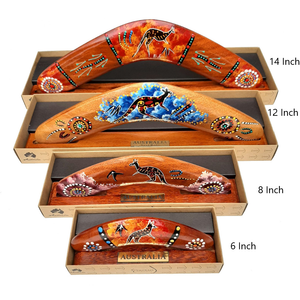 Dot Art Boomerang Set
Our Best Seller boomerang set, gloss finished. Hand Painted Boomerang Set with matching wood stand, packaged in a quality gift box. Making it an ideal gift for all occasions. Boomerang are hand painted and designs with unique backgrounds. Each set comes with throwing instructions. Painting features traditional outback native arts. Each colour and symbols have a unique representation and interpretation, providing an insight of the Aboriginal Culture.
Designs, Arts by Eddy Harris. All Royalties are paid.
Hand Crafted boomerang Set from hard wood
Light Weight Gloss Finished
Hand Painted with unique contemporary art work, each artwork may vary
Available in different backgrounds background colour and style may vary
Available sizes: 06″, 08″,12″ and 14 Inch
Designed in Australia, made in Vietnam