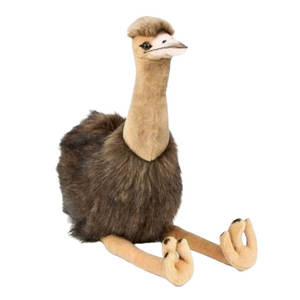 Emu Soft Toy 25cm - Penny
Penny is a medium size exquisitely soft and realistic soft plush toy emu.  Penny has soft, long fluffy fur and soft velour neck and legs.  Emus can't move backwards, it's for this reason that the Australian coat of arms features the emu that can only move forward as symbol of national progress.
This handcrafted and airbrushed emu is soft and measures 23cm/9″ in height not including the legs, 32cm/12.5″ in length and 12cm/4.75″ in width.
Emus are flightless birds and can live between ten and twenty years in the wild and have two sets of eyelids, one for blinking and the other for keeping the dust out.  The emu is found only in Australia.
Makes an excellent Australian native souvenir gift for the international traveller
Also comes as a 32cm version to make a collection set
Great educational toy to teach children while having fun for this coat of arms animal
Made using highest quality acrylic fur
Machine washable using chemical/soap free cleaning agent
Suitable for ages 3+