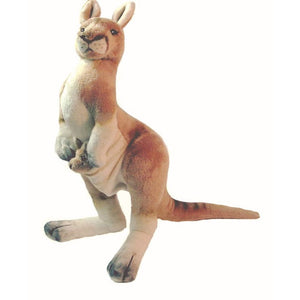 Kangaroo Soft Toy w/baby 34cm - Tess
Tess is a medium size exquisitely soft and realistic soft plush toy red kangaroo with an attached joey.  Kangaroos can't move backwards. It's for this reason that the Australian coat of arms features the kangaroo that can only move forward as symbol of national progress.
This handcrafted and airbrushed red kangaroo is soft and measures 33cm/13″ in height including the ears, 33cm/13″ in length including the tail or 21cm/8.25″ without the tail and 15cm/6″ in width.
Kangaroos are the only large animal to use hopping as their primary method of movement.
Makes an excellent souvenir gift for the international traveller for this iconic Australian animal
Great educational toy to teach children while having fun for this coat of arms animal
Made using highest quality acrylic fur
Machine washable using chemical/soap free cleaning agent
Suitable for ages 3+